By Steven Schnoll, Managing Director, Schnoll Media Consulting
As a leader, it is your job to inspire, provide clarity and ensure your team is thinking in a manner that integrates traditional print processes with new end-to-end content delivery methods. You might know exactly what you need to do with conventional print techniques, but you might not be clear on the purpose or how to do things withnew digital technologies.
You might know you need to have that difficult conversation with your employees, but you are less sure about how to have it. You might know you need to hold your team accountable, but you do not have the skills to do it in a manner that builds authentic engagement.
One can no longer rely on old school traditional methods of running a business. The challenge is how to evolve your leadership from the existing status quo to lead effectively with innovative digital cross-media opportunities. The process of doing this can be daunting.
Let me test your imagination. It is 2022, whether you are the owner or a chief executive leading your company, you are facing a dynamic world of how to develop not only survival tactics, but strategies to grow one's business as well. The world is still struggling with COVID-19 and a complex economy.
On a more industry-specific situation, the paper shortage is complicating the ability to obtain the most vital component of operating a print operation. Also, customers are questioning the use of print as the best method of reaching their respective target audience in their marketing campaigns. Now layer in the enormous debt some companies have for equipment not getting used to full capacity and the challenge to hire needed and qualified personnel. However, you love this industry and are dedicated to it! Have I sufficiently tested you?
So, what does one do to amplify your business model with visionary critical thinking to inspire the team with new ideas? Developing a blueprint with customer scalable aligned business strategies is not easy. It all starts with looking at new opportunities that solve customer challenges with real-time solutions. Setting new company goals is filled with many difficult issues.
There is a thought process for leaders called soft skills (sometimes referred to as human skills) that are composed of tasks such as good communication, negotiation, cooperation, these are essential abilities for a leader who seeks to be effective and admired. Do you think you possess some or all these characteristics?
Here are a few questions to reflect on:
When was the last time you truly examined what makes your organization work; the business models, corporate culture, and coordinating mechanisms that empower it?
Have you thought about the current and future business models you will need to guide your company to future success?
Have you looked at new operational models?
Have you engaged your workers to better understand their concerns?
Have you tried to inspire them to take chances and reach new conclusions about their everyday work processes?
You cannot sleep on these actions. Our industry is under assault and a good leader will take the necessary action to develop workable strategies to not only survive, but to thrive as well. There are many possible paths to success for good ideas. The challenge as I see it is how does one weigh their company options and confidently make the right decisions?
One of the great starting points for developing your new business plan is getting the team to do a SWOT analysis. Has your company ever executed a SWOT? if so when was the last time you executed one? No matter how big or small the company, this is an essential step in building a plan for the future.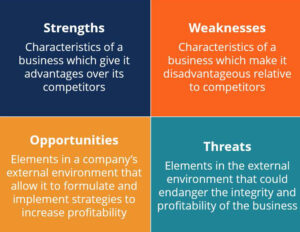 SWOT stands for Strengths, Weaknesses, Opportunities and Threats. This is not a difficult process to engage in with the team. One must know all these elements before any steps can be taken. A true leader must engage the team, get all of their input, and then determine what is probable, plausible, and possible for their respective company. Once everyone on the team understands the SWOT analysis, then steps can be taken to move forward. You are now executing the first elements of the practical skills communication.
Once you have completed the SWOT analysis, the team needs to analyze the results and negotiate a path forward. That generally starts with developing a strategic plan; a blueprint for today and tomorrow. Whether you want to harness new innovations or pivot your existing business mode, the task ahead can be tricky and needs a strong leader. One of the first things I suggest is examine your story line; what is your message to your customer?
If you do not have a compelling story, no one is going to listen. This often starts with the name of your company. If you call yourself a printing company, you may find you are hitting a stone wall. Customers will often think you only provide print services. Customers want suppliers that offer a diverse portfolio of multimedia services. You do not need to change the entire name of the company, but eliminating words such as print, graphics, litho and so forth. is quite often is a good starting point.
Do you know what IBM stands for? International Business Machines was one of the first electric typewriter manufacturers. It moved on to become a company broadly involved in a large variety of cutting-edge technologies.
Next is examining the empathic nature of your company with these five steps:
Evaluating new technologies to determine best fits for the company and customer base.
Planning and budgeting for future investments.
Strengthening the talent pool with new hires and re-skilling current team members.
Asking relevant customer questions to determine what is changing in their businesses.
Ensuring one stays on course and does not get diverted by everyday challenges.
There is a problem I have often encountered that can make this process very challenging, cooperation among the team. Lack of cooperation often occurs when a key manager or executive cannot handle the truth the print world is in a state of flux with massive changes occurring. A leader must exhibit strong courage and leadership skills to overcome this situation. The method of dealing with the flow of information between all parties requires a complete rethinking of how one communicates to the target audience.
Savvy leaders must be at the forefront of innovation. Whether you want to harness new, innovative technologies, or unleash the creative talent of your staff, think out-of-the-box and stay disciplined. The relevant question is: how does one weigh their company options and confidently make the right decisions?
MIT Sloan Senior Lecturer Bill Fischer says: "New competitors, digitization of product and service offerings, and unforeseeable events are shaking up our businesses, economies, and global society. While innovation around products and services are necessary to stay ahead, business model innovation is essential for delivering longer lasting competitive advantage."
One of the most important elements in achieving future success is transforming your existing workforce into a digital-ready one. Leaders should offer workerspay incentives to learn about new technologies they will need to give the companyaccountability and capabilities to exploit new products and services fully.
Some practical product offerings one can employ to make their company more customer viable in this digital world include:
Database management;
Graphic design;
Web design and maintenance;
Facilitating social media;
Video production;
Augmented Reality;
Digital print engines (toner and inkjet);
Wide format; and
Promotional items
Other ideas include investigating labels and packaging, fabric/textile printing, and 3-D printing opportunities.
Many times, I hear printers say, "I do not have the resources to invest in any of these product offerings." Well, answer a simple question. Over the years if a customer's job required die cutting, foil stamping, perfect binding, etc., how did you facilitate these steps? Most likely you farmed it out to a reliable partner. Any difference here?
Printers have historically outsourced many services. Now is the time to identify potential new partners that can offer these services until you gain the financial resources or personnel to do it in-house.
As you can see, there are many areas to explore. Many can be confusing and financially challenging. As the company leader, you must carefully explore all your options. Your team is depending on you! You must understand all the risks in designing for the future and clearly demonstrate your leadership skills.
Every day we live in today's society we realize digital mega-trends are changing the nature of our work environment. These work trends are making it much more difficult to operate successfully. I hope this piece has inspired graphic arts leaders to not only transform their businesses, but to also provide some ideas to help meet customer expectations as well.
New leadership behaviors are needed to make one's business thrive in these challenging times. Do not be left behind, engage and encourage your team immediately; time is not on your side. Do not be a struggling leader. Immediate action is required. Remember, a great leader for your organization must articulate a business culture that is right for your company, your customers, and is nimble in the digital economy!
Steven Schnoll has been active in the graphic communications industry since 1969. During the past 23 years he has had the privilege to offer his consulting services to a diversified group of companies including Aflac, Aleyant, Association for Print Technologies, Bunting Co., Canon USA, Fenway Group, Harris & Bruno, HP, Maine Credit Union League, News America Marketing, Printing Industries of America, Leukemia & Lymphoma Society, Xerox, and Xmpie.
For more information, please visit Steven's Web site.