About the Joss Group
The Joss Group owns and publishes the Seybold Report, a well-known and well-respected newsletter about the technologies used in the graphic arts (as well as the printing and publishing) industries. The Joss Group acquired this newsletter in May 2010, but the roots of the publication go back to the 1950s.
In 2017 Jonathan Seybold, the founder of Seybold Seminars and previous owner of the Seybold Publications (now defunct) newsletters, sat down with Burt Grad of the Computer History Museum to create an extensive oral history. Following a brief discussion of his early life and college years, Jonathan Seybold talks in detail about the work that his father, John W. Seybold, and he did in promoting the development and implementation of computerization in the printing and publishing industries, beginning in the 1960s. They first joined efforts to run the company, ROCAPPI, which was a pioneer in digital typesetting and hyphenation and justification (H&J) technologies.
Jonathan then became the leading communicator for desktop publishing technology and the evangelist for the nascent desktop publishing industry. Jonathan worked as an industry consultant and founded Seybold Publications. He also founded Seybold Seminars, which grew into large, bi-coastal gatherings and trade shows for industry users and vendors. These forums were instrumental in promoting and disseminating information about the use of desktop publishing technologies during the 1980s and 1990s. Please click here to view this fascinating and informative video.
---
The Joss Group also owns and publishes other paid newsletters; please click on the Newsletters tab to learn more about our publications.
Periodically, the Joss Group conducts conferences, training, and networking events for graphic arts professionals. We also consult with executives and other graphic arts professionals interested in learning more about technology and business issues related to evaluating, acquiring, and implementing graphic arts technologies and running graphic arts-related businesses.
The Joss Group is a woman-owned, woman-managed company.
About Molly Joss
Molly Joss, the owner and founder of the Joss Group, launched the company in 1994 to provide editorial, marketing, and management consulting services to media and publishing companies and business-to-business and consumer product suppliers.
Before starting her company, the Joss Group, she was the Marketing Director for Seybold Publications, an internationally known group of high-tech newsletters. Also during her time at Seybold Publications, Molly was the company's Technical Editor.
Earlier in her career, Molly held a series of increasingly responsible positions in sales and marketing, software testing and analysis, writing, and editing. She is an experienced teacher and trainer and has done extensive charity work in the non-profit sector, both domestically and overseas.
In 1996, Molly won one of the most prestigious honors in the field of specialized journalism: a Jesse H. Neal Award Certificate of Merit for a Computer Artist magazine article about copyright in the age of the Internet.
Molly has also written a number of books including Looking Good in Presentations, How to Do Everything With Photoshop Elements, Graphic Design Tips and Tricks, and Getting and Keeping the Printing Staff You Deserve. Other titles and writing projects include Best Practices in Digital Print (fourth edition), Best Practices in Digital Print (fifth edition), Expanding the Digital Path: Digital Presses, User Experiences, and Comments (with Ira Gold); and A Good Man (feature-length script).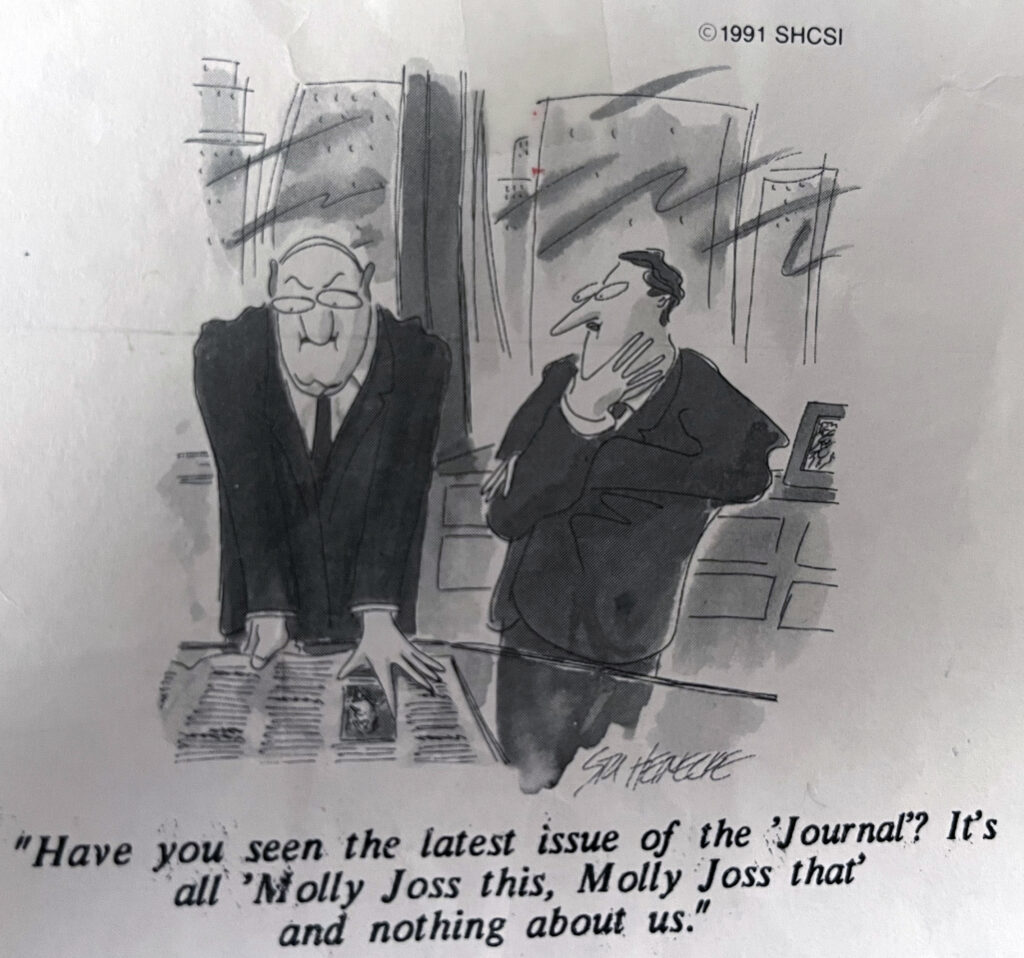 About The Joss Group Privacy Policy
The Joss Group is a zealous supporter of the privacy rights of individuals. Thus, we strictly limit our collection of data on this Web site and only collect the data needed to run the Web site properly. We do not retain the data any longer than is strictly necessary.
Should a site visitor complete a request form for a sample issue, subscribe to a newsletter, or any other option on this site, the Joss Group may contact the visitor to make sure they have signed up for the content but will not use the data for any other purpose.
In addition, we rarely collect any more information about a site visitor other than an e-mail address, contact name, and company affiliation. We do not share or rent our mailing lists, e-mail lists, site information, or any other information we may collect or use, including subscriber-related information, with any other company. We do not even release the number of site visitors, newsletter subscribers, or other company metrics to other companies.
Contact Us
If you would like to reach us to submit a press release, ask a question, or sign up to receive notifications of the latest Seybold Report blog post, please send us an email.